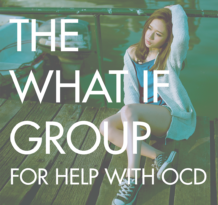 Group counseling for Obsessive Compulsive Disorder (OCD), starting November 7, 2016
What if I forgot to turn the stove off and my house burns down?
What if I didn't clean up well enough and someone else gets sick?
What if I lose control and hurt myself or others?
What if I don't do everything perfectly and God sends me to Hell?
If you have OCD, you may find yourself in a persistent state of worry over the 'what if's in life. You feel as though you are held captive by your thoughts…